JR Kyoto Isetan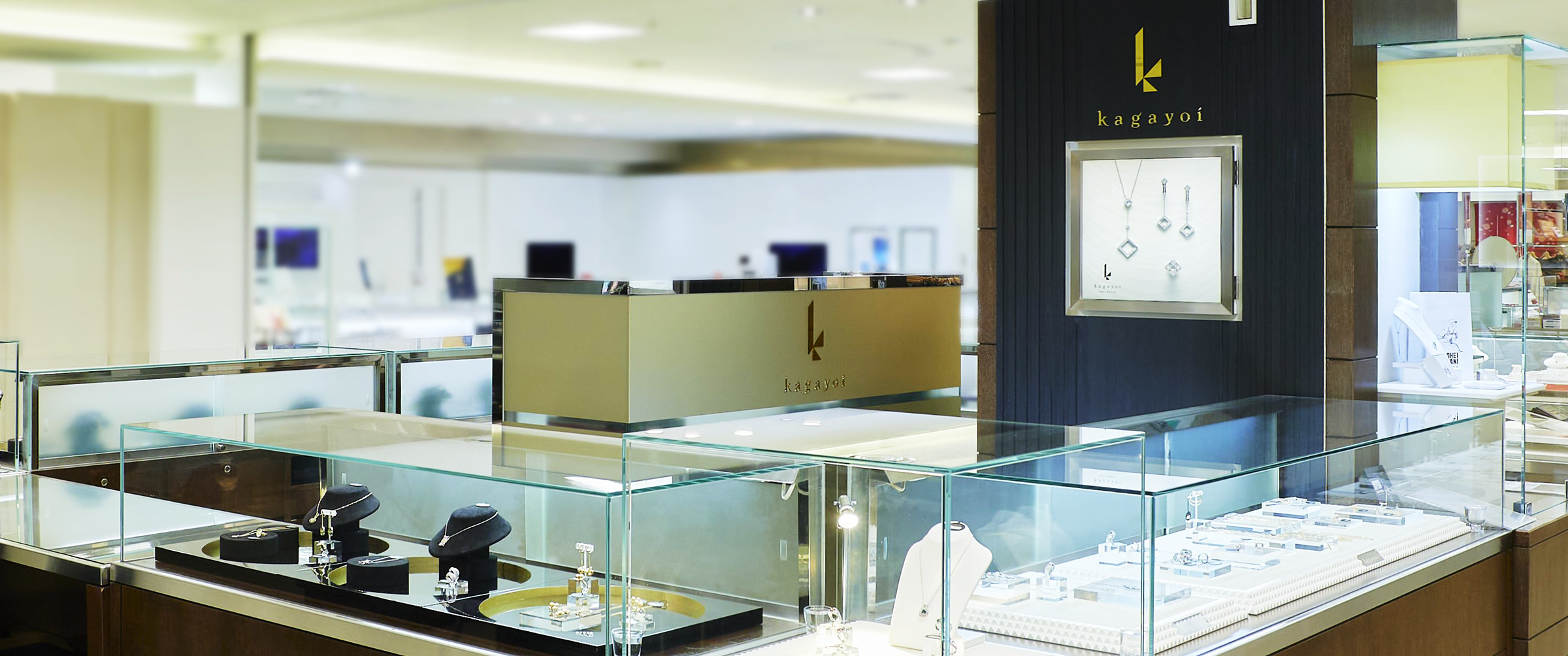 Location: 9F Higashishiokoujicho, Karasuma, Shimogyo-ku, Kyoto-shi, Kyoto Japan 600-8555
Phone: 075-342-5673
Business hours: 10 AM to 8 PM
IMAYO Kyoto Oike Shop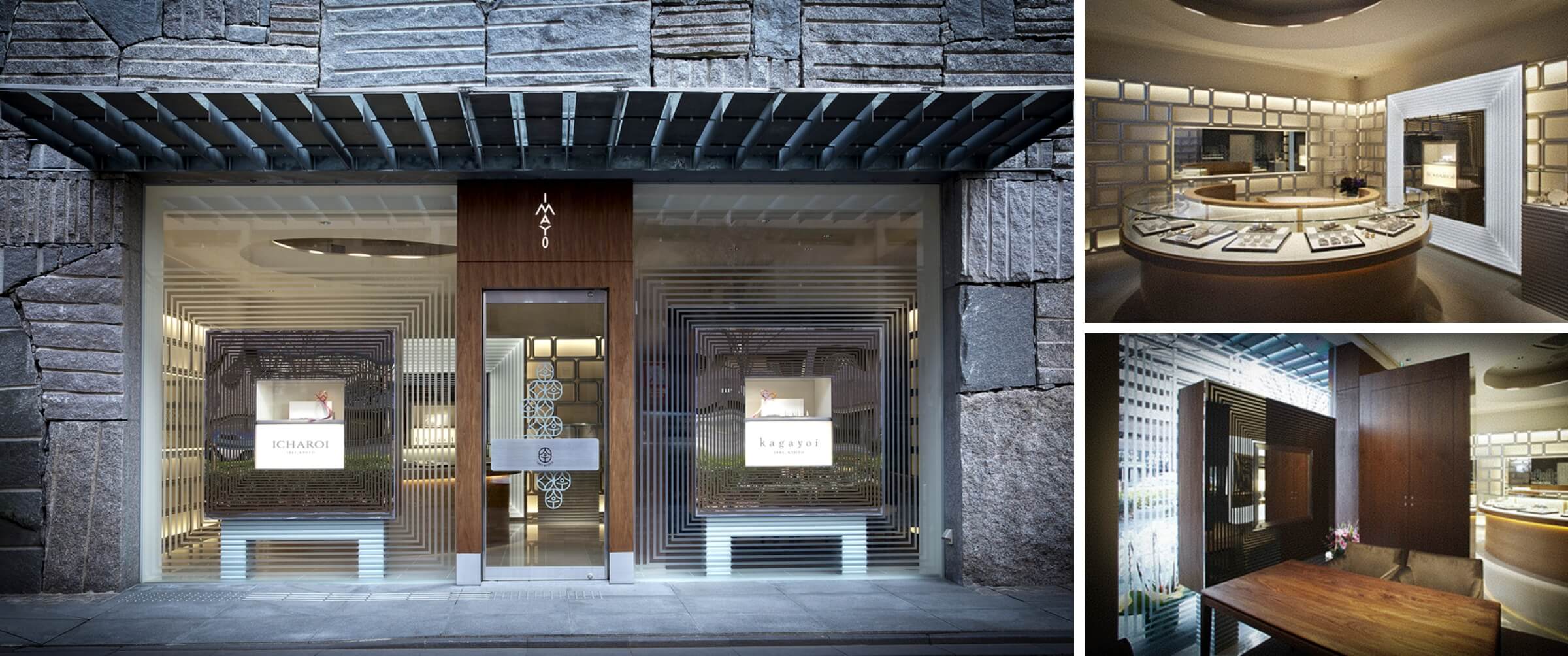 Based on the design concept of "Old & New," IMAYO Kyoto Oike Shop combines Kyoto's
traditional atmosphere with the feel of an old European town.
The interior's basic motif is a "nesting box" pattern that evokes traditional Japanese nested measuring boxes,
a motif carried through in the design of the show windows.
Also continuing the motif is a number of lacquered picture frames arranged around the interior.
Within these picture frames the jewelry is displayed like paintings,
brightly illuminated to symbolize the brilliance of life.
The special occasions in one's life accumulate much like nesting boxes,
and Imayo aspires to offer the perfect jewelry to adorn those special occasions.
Location: 1st Floor, Kyoto Oike Sohseikan, Yanagi-no-Bamba
Higashi-iru, Oike-dori, Nakagyo-ku, Kyoto 604-0954
Phone: 075-741-7027, E-mail: oike-shop@imayo.co.jp
Business hours: 11 AM to 7 PM (until 8 PM on Friday & Saturday)
Closed: Wednesday and December 31 thru January 3
IMAYO ISETAN SCOTTS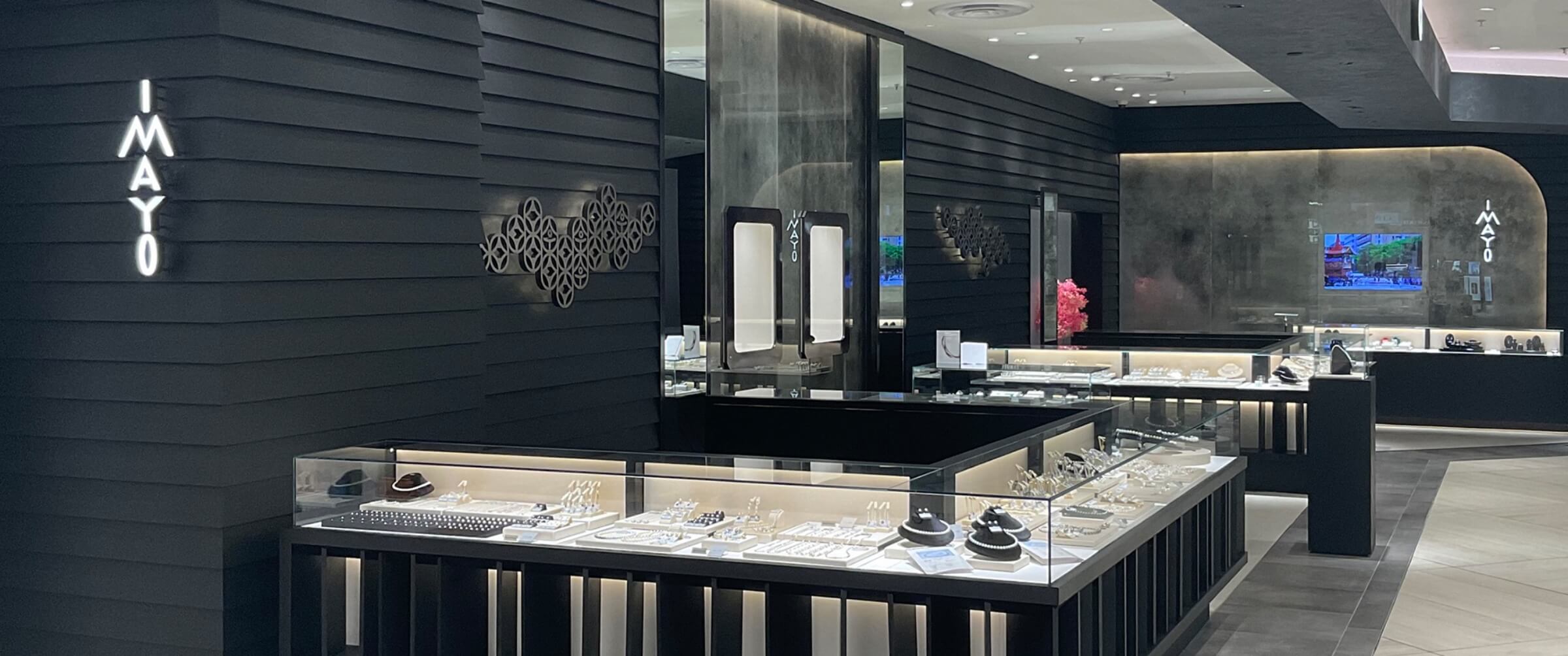 Comprising two contrasting areas in black and white,
this is a space where people may spontaneously feel like being in IMAYO's origin KYOTO,
the city always respecting both rich traditions and active innovations.
The black wall surface surrounding the brilliant jewelries is based on "Shitami-itabari",
a traditional construction method in Japan,
harmonizing with IMAYO's jewelries characterized by the inherited KYOTO traditions
while serving as a background with dignified atmosphere.
Shades on the decorative glass evoke those seen on Japanese ink brush painting and interact with the black wall surface,
"Shitami-itabari" to amplify this elegant space.
The white area displays the stylish line resulting from originality and ingenuity IMAYO has incessantly evolved,
in hopes of becoming the sophisticated attractive space.
Location: 350, Orchard Road, Shaw House, 238868 Singapore
Phone: +65 6734 8900
Business hours: 11 AM to 9 PM (until 9 half PM on Friday & Saturday)
Closed: 1 day on Chinese New Year Holidays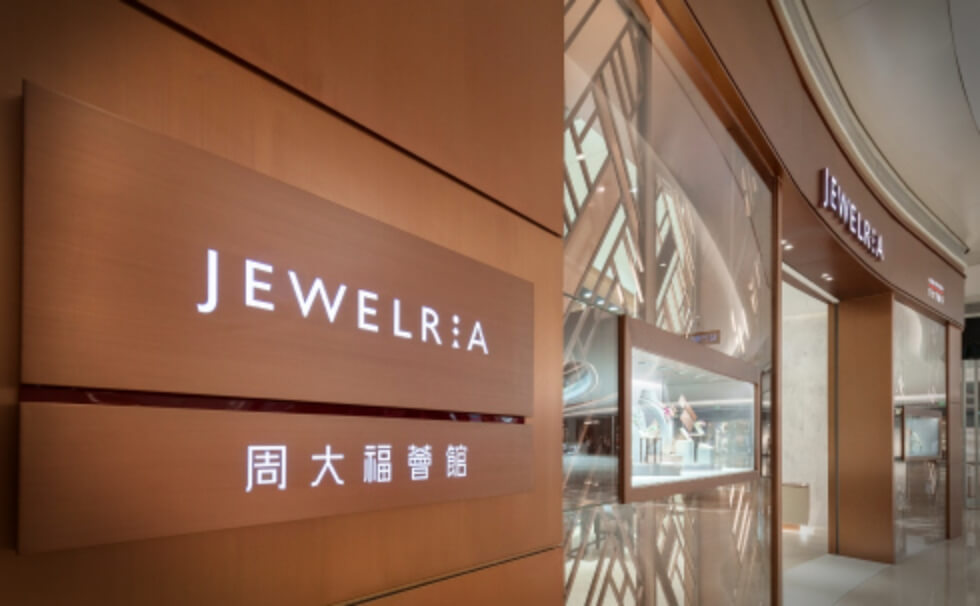 JEWELRIA, Shanghai Hongqiao Road Grand Gateway Plaza Branch
JEWELRIA, Store B105G, Floor B1, Grand Gateway Plaza, 1 Hongqiao Road, Xuhui District, Shanghai, PRC
TEL:86-021-54665006
E-mail:ctfbranch62217@worldshop.com.cn
Business hours:Monday to Sunday 10:00-22:00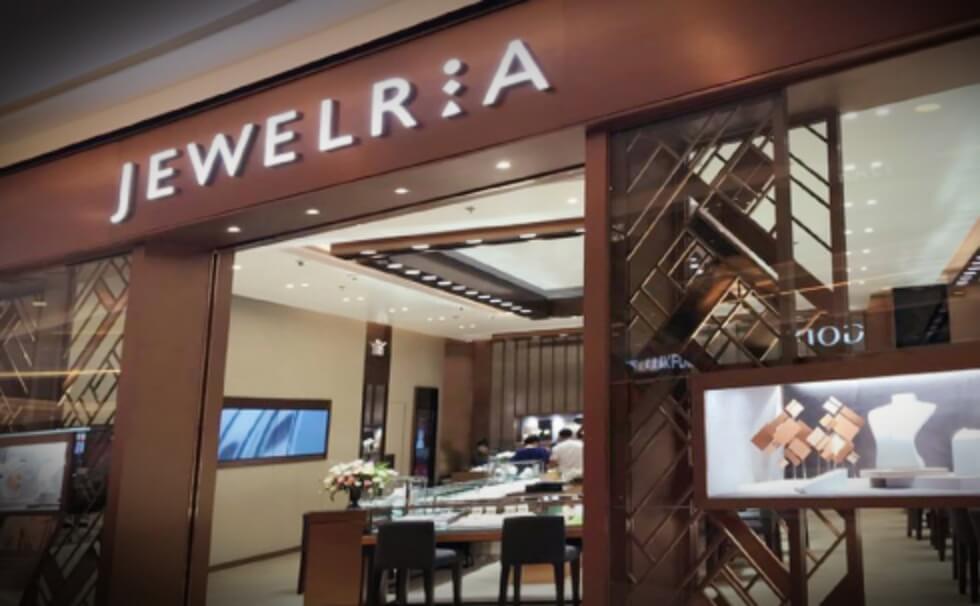 JEWELRIA, Shenzhen Nanshan Coastal City Branch
JEWELRIA, Store 233, Coastal City, 33 Wenxin 5th Road, Haizhu Community, Yuehai Sub-district, Nanshan District, Shenzhen, Guangdong Province, PRC
TEL:86-0755-86359606
E-mail:ctfbranch62688@worldshop.com.cn
Business hours:Sunday to Thursday 10:00-22:00/Friday to Saturday 10:00-22:30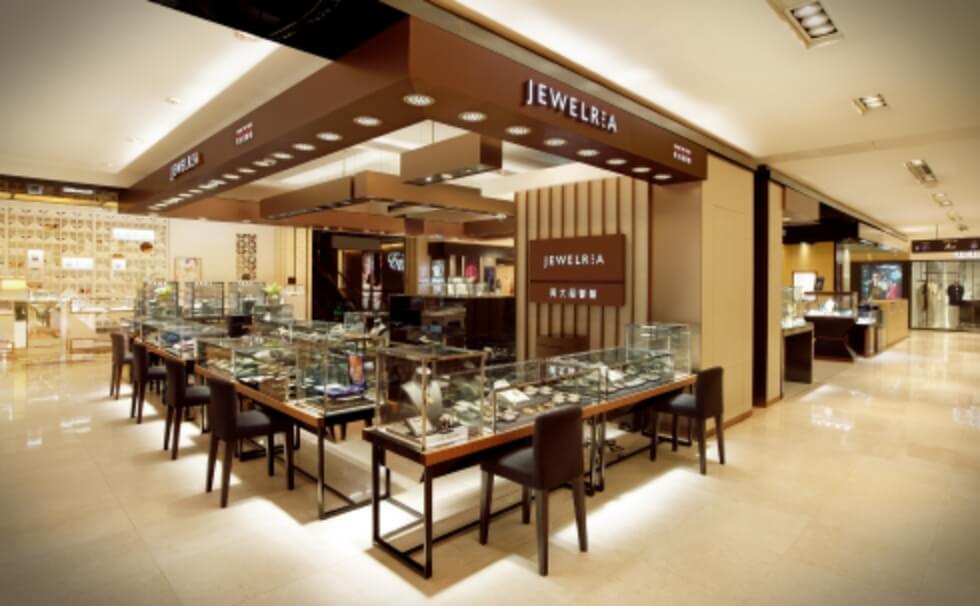 JEWELRIA, Wuhan Liberation Avenue International Plaza Branch
JEWELRIA, 2nd Floor, Wuhan International Plaza, 690 Liberation Avenue, Wuhan, Hubei Province, PRC
TEL:86-027-85717836
E-mail:ctfbranch3829@worldshop.com.cn
Business hours:Monday to Friday 09:30-22:00/Saturday to Sunday: 09:00-22:00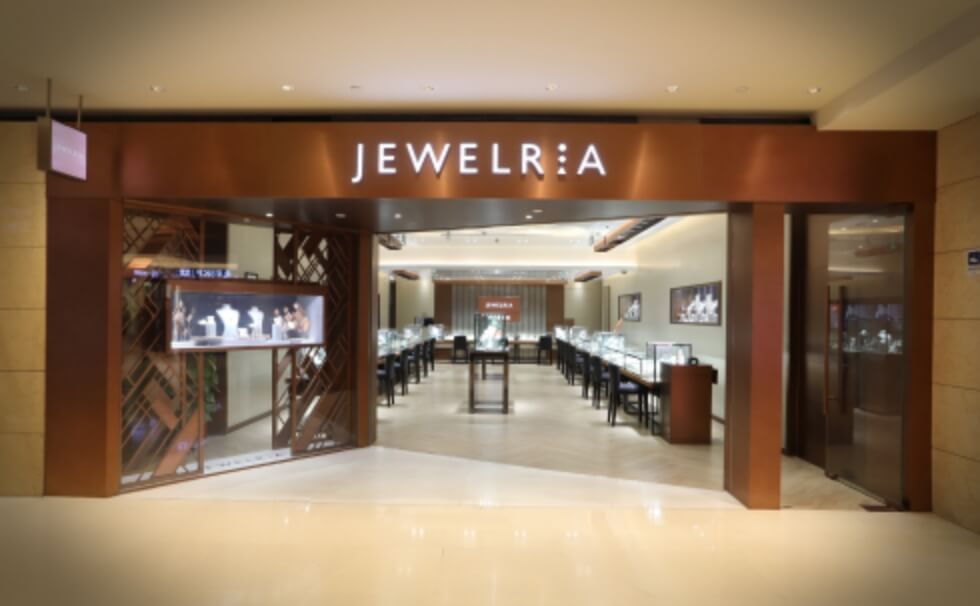 JEWELRIA, Beijing Dongzhimen Raffles
JEWELRIA, No.1 Dongzhimen South Avenue, Dongcheng District, Beijing, PRC
TEL:86-010-64025224
E-mail:ctfbranch62369@worldshop.com.cn
Business hours:Monday to Sunday 10:00-22:00